Morehead Planetarium ( www.morehead.unc.edu )

Hours:
Monday - Tuesday: 12:30 & 5:00
Wednesday - Friday: 12:30 & 5:00 & 7:00 - 9:45
Saturday: 10:00 - 5:00 pm & 7:00 - 9:45
Sunday: 12:30 - 5:00 pm & 7:00 - 9:45
Phone:
24-hour show schedule hotline: (919) 549-6863
Business Office:(919) 962-1236
Ticket Office:(919) 962-1236

Address:
Morehead Planetarium
The University of North Carolina at Chapel Hill
CB #3480
Chapel Hill, NC 27599-3480
Directions:

On West Franklin Street, on the eastern edge of campus.


The Morehead Planetarium, one of the largest planetariums in the United States, is located on Franklin Street in Chapel Hill. The Morehead Planetarium Building and grounds, complete with a 68-foot, domed Star Theater and Zeiss Model VI Star Projector, scientific exhibits and classrooms, 24-inch Cassegrain reflecting telescope and observation decks, Visitor's Center, art galleries, rose gardens and the massive sundial were built for students of all ages with all interests.

Public planetarium shows Wednesday through Saturday evenings at 7:30 and 8:30 and live sky shows narrated by planetarium staff members on Fridays at 3:30 and 7:30 teach the public about the night sky, lunar landings, the travels of the Voyager spacecraft, black holes, the Big Bang and more. Weekend matinees include shows for children and families alike. Many of the planetarium's shows are completely original, written and produced on location at the Morehead. Non-credit classes for adults and children, special courses for teachers, memberships for students, individuals and families, public viewings of astronomical events and public lectures keep the community involved in the planetarium's activities.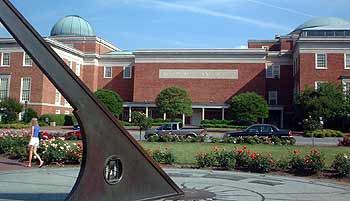 Morehead Planetarium
photo by skylawrence.com